Often I get asked to "put Facebook & Twitter  buttons" on a  clients website.  However, there are a couple different kinds and it is good to understand which one you might want to use.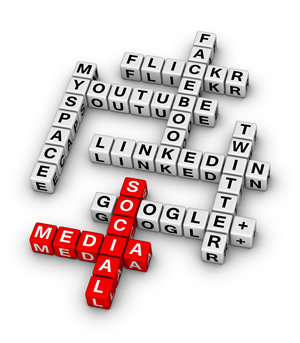 Share: The share buttons direct visitors to THEIR own account to post about you.  This can be done with facebook, twitter, pinterest, etc … most of the social sites have code to do this. How does this help you?  This gets your visitors to do some advertising for you! Their followers see that they like your site and then hopefully it drives traffic to your site. A great way to get the word out about your site.
Follow: Follow buttons are used if YOU have an account that you want visitors to go to.  So for example if you have a facebook, twitter, pinterest account that you want them to visit.  Keep in mind, this WILL take them away from your site. So you only want to do this if you feel it is valuable for them to visit your social site and not just your website.  You may have a small business website but a personal pinterest site so there would really be no need for a customer to "follow" your personal pinterest site.
It is best to have a mix of these two options on your site.  You should definitely have the Share buttons.  The follow buttons should only be included if they provide additional, important information about you, your products or services.
So what is the easiest way to add these buttons?  ww.addthis.com .  Addthis has done all the work for you, and it's free to use.  Pick share or follow, pick the social media buttons you want to include and they will provide the code for you.  One downside, you cannot customize the look of the buttons if you are using Addthis.  If you want to have your own buttons that match your site, you will have to code them separately.  Most of the social networking sites have instructions on doing that.
Here are two Addthis links to help you get started:
Need help getting started, just let us know.
(photo from fotosearch.com)
Summary
Article Name
Social Media Share Buttons vs Follow Buttons
Description
Difference between social media share buttons and follow buttons. How to set them up and which ones to use.
Author