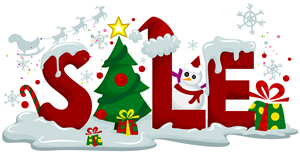 Time for that last minute push for holiday sales!  Review why people are leaving items in their cart and not purchasing … is shipping too high?  Is your checkout procedure too complicated?
Consider "specials" to get your customer to stay and purchase more.  If there is only one item in the cart, consider offering a special coupon code if they purchase 2 or more … can be a percent off or free shipping.  This will often entice the visitor to look again.  Offer this code on the billing/payment information page so that if they don't want to do it, they don't have to and can still just check out.
Clearly state on your site when the last day is for Christmas delivery.  Offer next day or 2nd day shipping for an additional fee.
Offer gift cards or gift certificates.  This is GREAT for the last minute shopper.  Create a .pdf they can print out for the recipient of their gift so they have something to wrap if it is really last minute.
And lastly, be sure to checkout your own site and purchase something as though you were a shopper.  This way, you will know if there is anything that might need to be "cleaned up".
Happy Holidays!