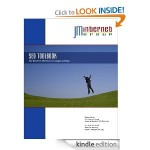 Recently reviewed a SEO (Search Engine Optimization) Toolbook by Jason McDonald.  This book contains info on how to use Google and Bing's free … yes FREE tools to help you with SEO.  Granted you do need some knowledge of SEO.  But if you need that knowledge, you can get it with his online courses here:  http://www.jm-seo.org  and yes, some of his courses are also FREE.
In this toolbook, Jason explains how to pick your keywords, analyze your page tags, identify the links you want, writing press releases, website structure and more.  This is just what to do to your website.  Then he goes on to explain how to find out what you should do using Google and Bing tools as well as many other top SEO sites.
It isn't true that "if you build it they will come".  You need to keep up on the current SEO trends and why not do it using free tools.  You don't have to use all the tools he recommends, just try a few and find out what ones you like that work best for you.  Start out slowly … changing just some of your site and see what works.  You will eventually want to use the information you will gain on all main pages of your site.    Chances are if you are not going to put time and effort into SEO, your lack of visits and sales will show it.
You can get this book for kindle here:  http://amzn.to/14vNXwR for $2.99.  No, I don't get any commission for recommending it … I just think it is worthwhile.  :O)
Summary
Article Name
SEO Toolbook: Free Tools for Dominating Google's Free Listings
Description
SEO Toolbook is all about this strategy of free plus free: free tools to dominate free (organic) search listings. Updated for 2013, the SEO Toolbook includes hundreds of free tools from all over the Internet.
Author